A new product that our professionals conceived, enhanced, and produced in response to market demand is the Plastic Lid Making Machine. It incorporates the benefits of vacuum forming and all-plastic blister packaging machines and applies GMP and QS requirements for the medical and food industries.
This machine may be used for blow moulding or vacuum forming, perforation, punching, and full-automatic process running also. With its modern technology, safety features, and ease of operation, it eliminates the need for manual perforation and the associated labour costs. Also guarantees the production's quality. The machine's unique heat equipment can conserve power, is economically feasible, has a compact overall design, and is extensively used in the food, pharmaceutical, and hard-goods industries, among others. 
We manufacture Plastic lid making machine to create lids in a variety of sizes and shapes. The lids may be used on paper cups, bowls, buckets, plastic cups, and so on.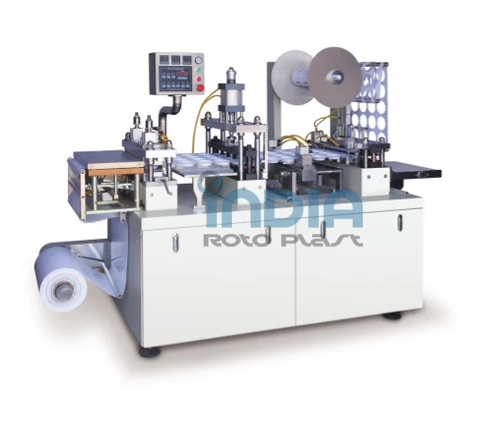 Our lid making machine combines electrical and optical technologies such as PC auto-controlling, transducer regulating, heating up a piece of material with temperature, moulding with an air press to cut out the completed product, and input of product numbers. The process is almost entirely automated as the PLC computer control is configured. With the use of this plastic lid forming machine, all types of plastic materials, including BOPS, HIPS, PS, PVC, PET, and others.