CHECK THE MODELS OF
BI AXIAL ROTOMOULDING MACHINE
FOUR ARM BIAXIAL
THREE ARM BIAXIAL
TWO ARM BIAXIAL
SINGLE ARM BIAXIAL
FOUR ARM BIAXIAL
Features :
Advanced Machine with Latest technology.
High Production can be achieved with Low fuel consumption.
Oven wall insulated with Cera wool material.
Specially designed oven to avoid heat loss and reduce cycle timing.
Provision of Interchangeability of Arms.
Provision of Pneumatic cylinders for tight closing of doors toavoid heat loss.
Imported Double Stage Energy efficient burner suitable for LPG / CNG / Diesel Fuel.
Equipped with safety devices, indicators and alarms for safety of operations.
Multilayer/PE Foam Charging Facility.
User friendly electrical control panel with necessary Interlocking.
Optional Hydraulic Lift to reach material on top of oven for Multi-layer charging results in fast processing.
Optional PLC for complete automation.
Layout :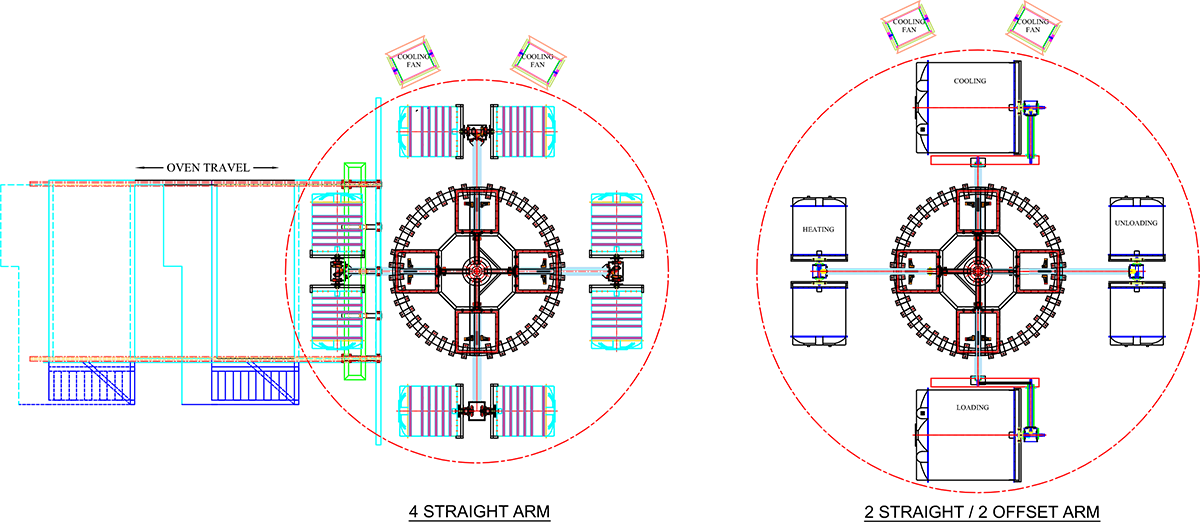 THREE ARM BIAXIAL
TWO ARM BIAXIAL
SINGLE ARM BIAXIAL
Important: It is possible to customize the machine to suit the customer demand.
Straight Arm can give you a choice of mounting either two or four moulds at a time. This helps in reducing production cost of small tanks. Offset Arm can hold a single mould of large volume of tank.
Range :
Fixed Turret/ Moving Oven type Rotomoulding machines having oven chamber size ranges from 1.5 meters to 6.0 meters to produce to 20,000 LTR [5000 USG / 4150 Imperial Gallons].